This page was last updated on: February 17, 2022

Previous Customer?  

When ordering provide your Personal Account Number to receive a 20% discount. This price is only available from this page...

About the Creator:

  My name is Alan and I am a true Welsh Lad from Brymbo situated high up in the Welsh Mountains of Wales.    I am a solitary practitioner and you will feel the positive energy in all here.

Antiqued  Gold Parchment.

"With its distinctive mottled finish, this is without question one of the best quality natural fiber parchment available on the market."

This papert holds a breathtaking transparency that can be seen through a candles flame. The grain is very satin and textured and has a very unique silky feel about it.  Perfect for Laser or Inkjet printers and outstanding for Fountain Pens and Biros.  This outstanding parchment infuses well with herbs and is very receptive to all types of inks and glues.

ECF pulps (elemental chlorine free, high tear and fiber strength), Acid & Lignin Free (not made with animal Bi-Products), and manufactured using internationally recognized environmental standards.

The nib of the fountain pen glides across the parchment, smooth and crisp. 

Perfect for a:


Hotel register, logbook

Book of Shadows

Wedding journal

Address Book

Phone book

Notebook

Journal

Diary
The pages can be customized for your needs with a small fee.  I use Epson DuraBrite Ink that offers an Eighty Plus year archival waterproof print for Watermarking the paper.  Email for quote.

Hole punched at no extra cost.


Investment cost: UK Pounds Sterling
80 Blank Heavyweight Antiqued Parchment pages 12.97 (.17 ea)


25 24lb Envelopes 12.97, .52 ea.  ( 9.99 If bought with above paper, .40 ea )
Payment: Pay Pal

PayPal is preferred  ( www.paypal.com ) Although I do accept check or money orders.

        When choosing currency, select Pounds Sterling.

Shipping & Handling: (By Weight )

Airmail 6.50 80ct (Parchment is much heavier than regular paper)

Thank you 

Starlight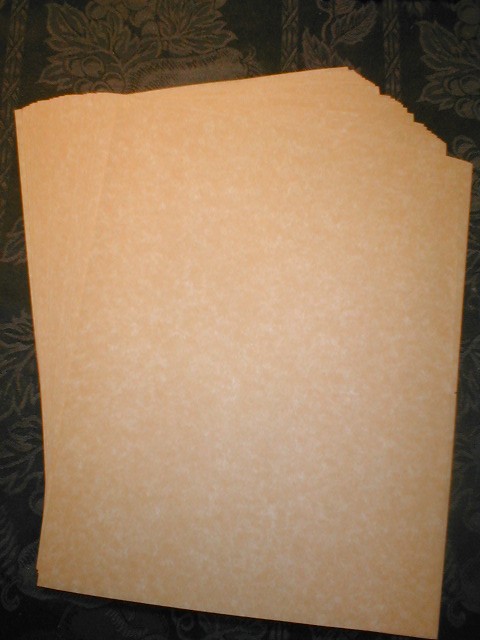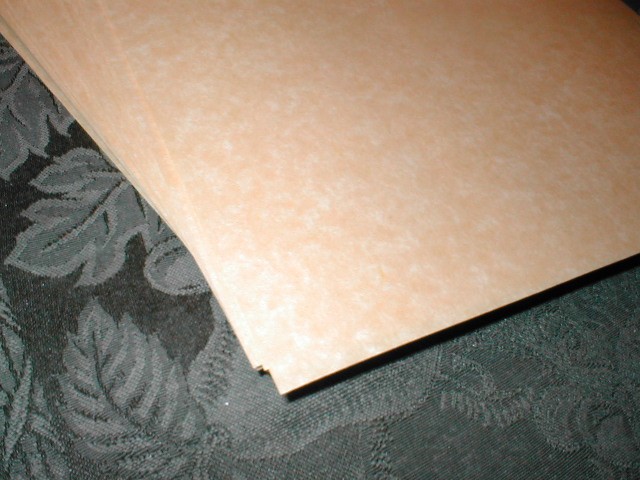 You will see the same product through other outlets for:

5 Sheets  2.25 @ 45 per sheet

10 sheets 3.00 @ 30 per sheet

20 sheets 6.88 @ 34 per sheet

Your cost through me is 16.5p per sheet

80 sheets 12.97 @ .17 per sheet

I can offer such a low cost because I create and sell Journals and I use vast quantities of this paper, because I buy it in large volumes, I can sell it at a much more reasonable cost to you.

If you need different quantities, I will sell per sheet at .17, min 80ct, email for quote.

Paper Weight and Size: 

The weight of United States letter size paper is given in pounds per 500 sheet ream of uncut C size paper. For the letter size paper, a sheet is cut into 4 pages so that a cut ream of letter size paper, 500 letter size sheets, weighs 6 pounds if the paper is nominally 24 pound paper.  

The weight of metric paper is given in grams per square meter (gms). By definition, one square meter is one A0 size sheet or 16 A4 size sheets.

Note that each type of paper has a different "base size," so 200 gsm of one paper will give a different Lbs/ream equivalent for a different paper. For instance: 20 lbs of Bond is almost the same as 28 of cover.

ECF (elemental chlorine free) methods. ECF pulps have a proven pollution prevention record, and have been acknowledged as a component of "Best Available Techniques" (BAT) under Integrated Pollution Prevention and Control (IPPC) measures.

ECF bleaching decreases chlorinated organics in mill wastewater by 90%, reducing their effects to the point of insignificance. ECF pulps also have a high tear and fiber strength.

Colour: Gold

ECF pulps: (Elemental chlorine free. Also offers a high tear and fiber strength.)

Acid & Lignin Free Paper: (Lignin Free: Not made with animal Bi-Products.)

Dimensions: "A" (letter) 8.5 x 11inch (Close to A4)

Bond: 24lb

Offset: 35.6 gsm

Cover: 65.0 gsm

Bristol: 52.7 gsm

Tag: 56

Index: 43.4 gsm

Points: 4.8

Caliper (inches): 0.0048

Millimeters: 0.12

Metric (grams/sq meter): 90.3gsm

Save, Save, Save.. Your Cost.