ENGEDI PRESBYTERIAN CHAPEL, BRYMBO

  Edward Rogers and William Hughes, of Adwy, established what is believed to have been the first Sunday school in Brymbo district when they introduced Welsh Calvinistic Methodism to the village in 1818.

  These services were conducted in the home of Mali Davies in one of the houses situated behind the present Chapel and which were then known as Rhes-pen-y-graig  later called the Long Row.

  These services proved such a success that it was decided to build a Chapel and the first part of this edifice was completed in 1820 on the land where the present Chapel is situated.

  In 1861 the Chapel was extended and in 1895 was re-built, along with the Schoolroom and other required buildings, also a center-place to accommodate the organ.

  These, in chronological order, are the Ministers who served at Engedi since its inception:

John Jones, Thomas Owen, Jonathan Judd, Tbenezer Jones, Robert Griffiths (Lixwm), Edward Roberts, O. T. Williams, William Williams, J. H. Williams, Richard Hughes, David Lewis, D. J. Owen, Cledwyn Griffith and A. H. Phillips, the present Minister.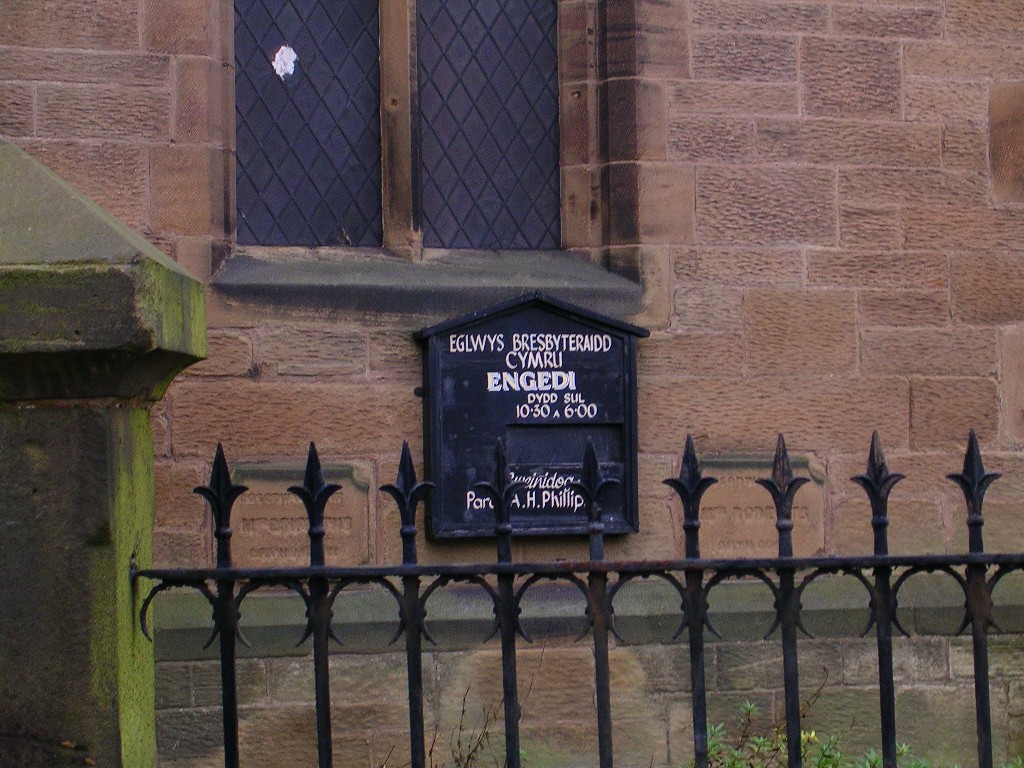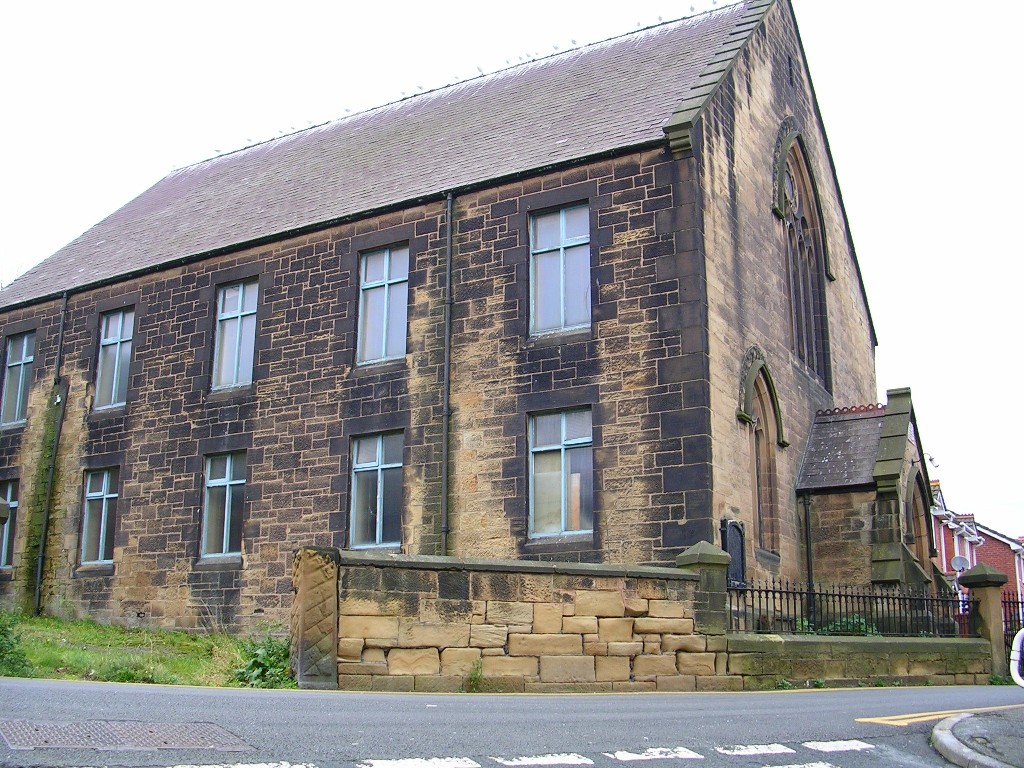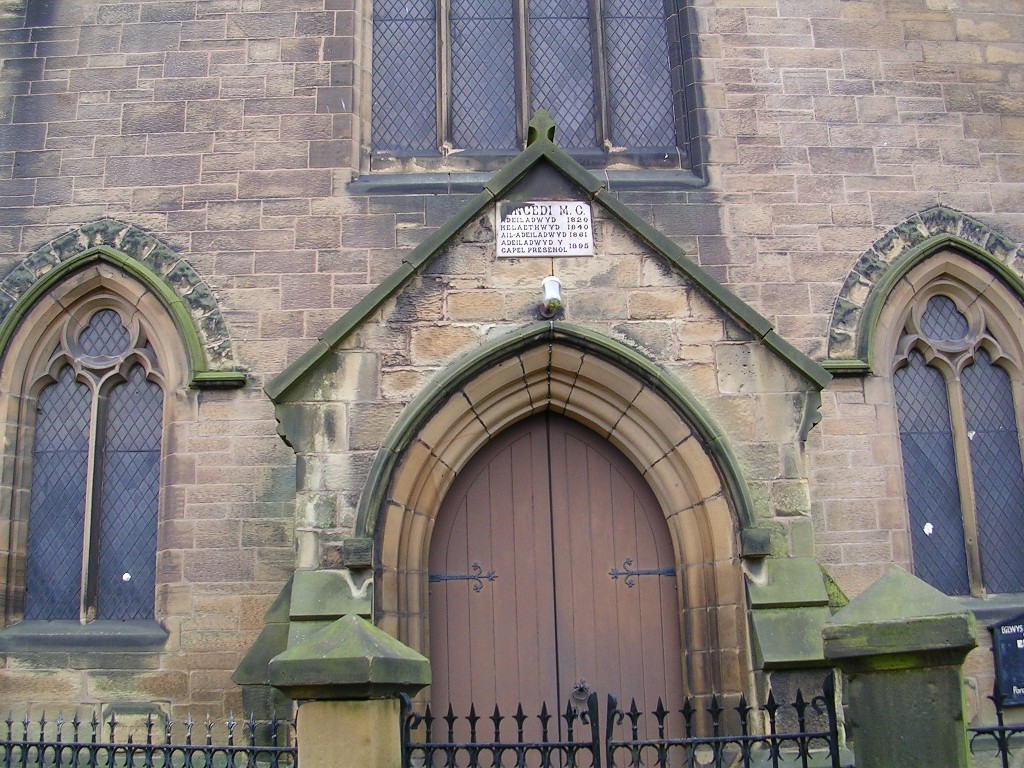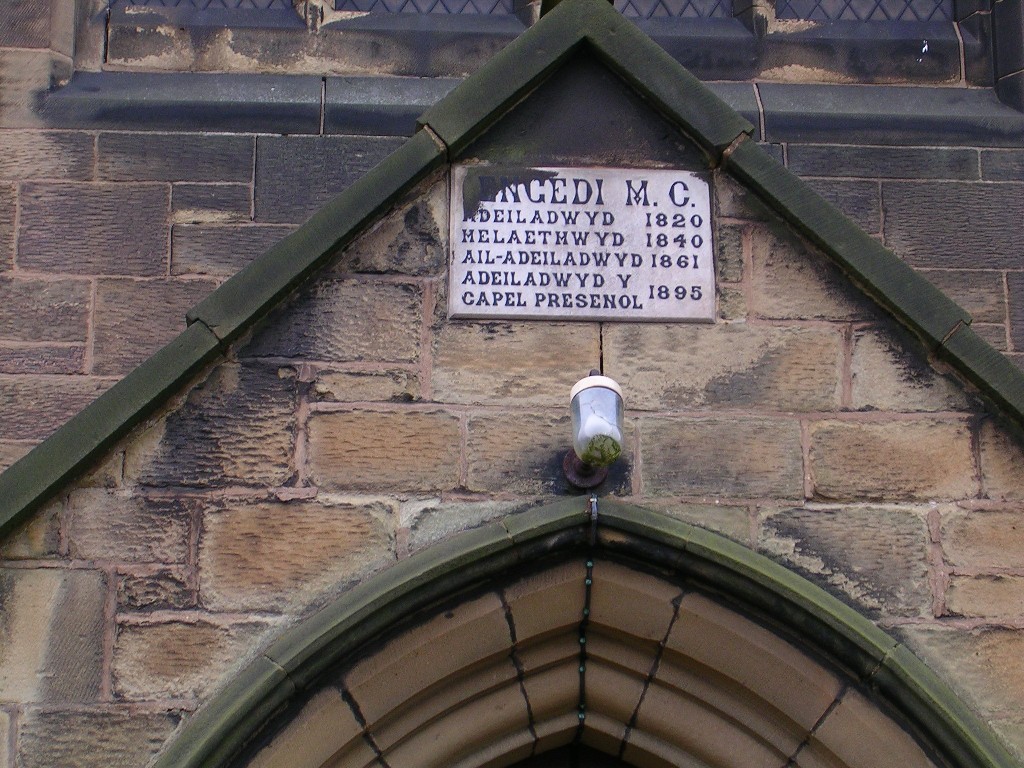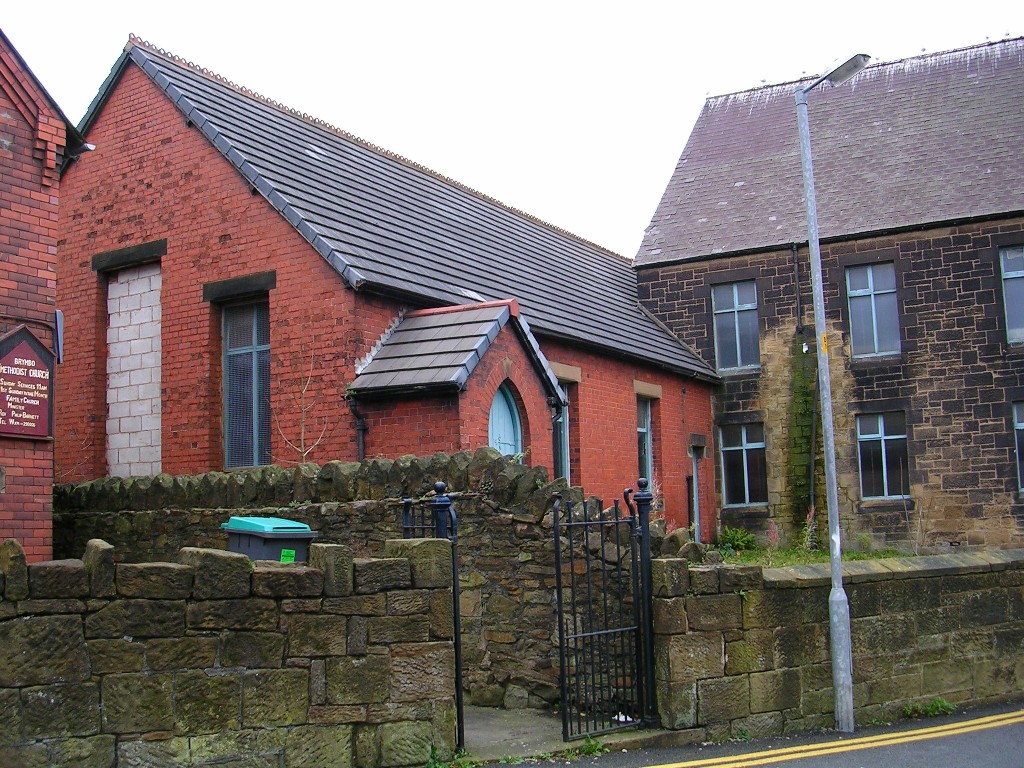 Churches in Brymbo

Gyfynys Church

1802-?

    Harwt/Wern Cae-plenty (Capeleeca /Ridings) Nr. Ffrwd
Bethel


     1800-1837




1837-1863




1864-1890




1890-1972

Brymbo

Welsh Wesleyan Chapel
Horeb



?



Brymbo
Engedi


   1820-2003

Brymbo

Calvinistic Methodists
St. Johns


1837-1869

Brymbo
Bryn Seion Church
  1861-?    

Brymbo
Capel Brain

      1861-?    

Lodge

   Baptist Chapel
Tabernacle


1864-1987

Brymbo

  Baptists
Noddfa


     1864-?    

Lodge
St. Mary's


1872-Present     Brymbo




1885-Present     Brymbo
St. Johns 

     1892-1974?

Brymbo




1908-1978

Brymbo
Bethania


  ?-?


  Brymbo

  Calvinistic Methodists
Saron



?-?


Pen-Rhos
Can anyone shed more light on this church or any of the other churches in Brymbo?  Please email me at brymbolad@hotmail.com.

This page was last updated on: August 12, 2009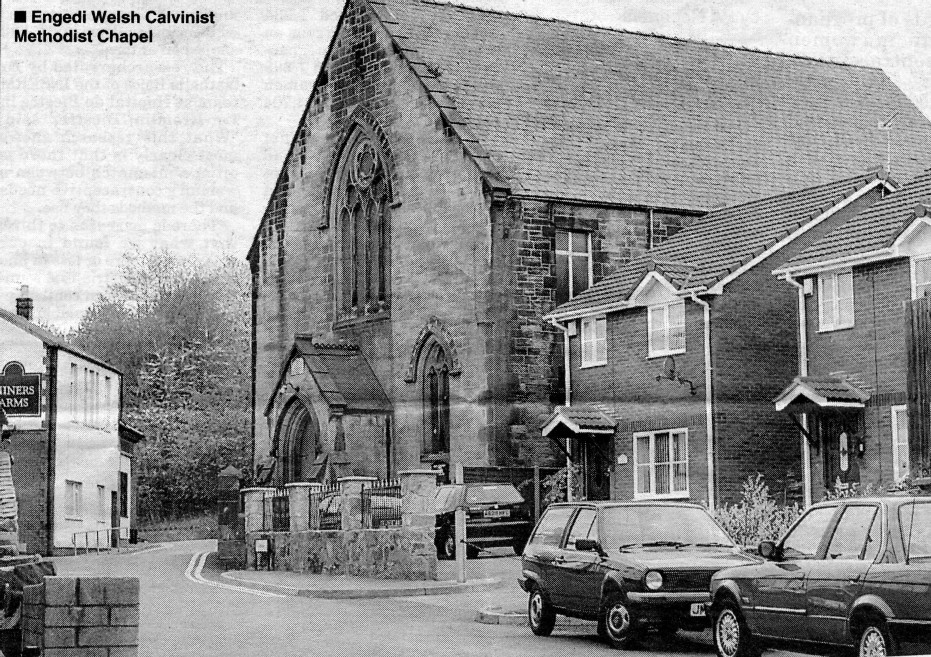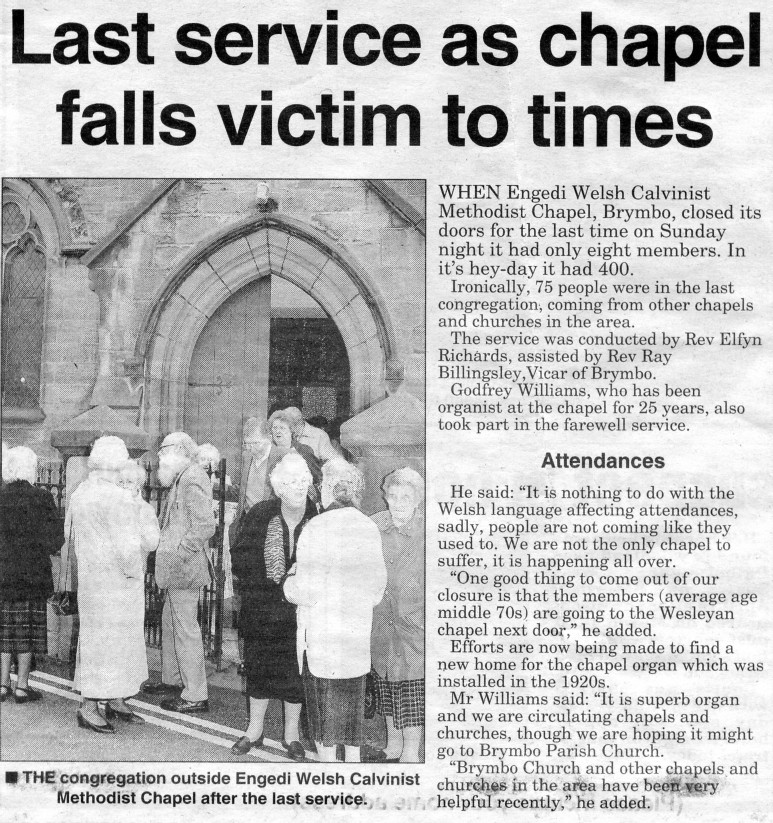 This Article was in the Evening Leader Wednesday April 30th 2003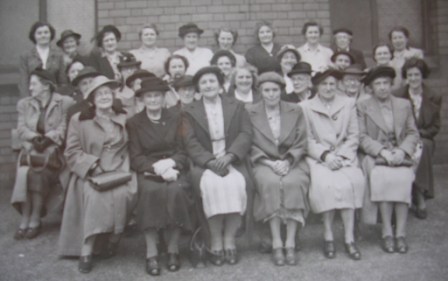 Lady Member's of Engedi Chapel Brymbo.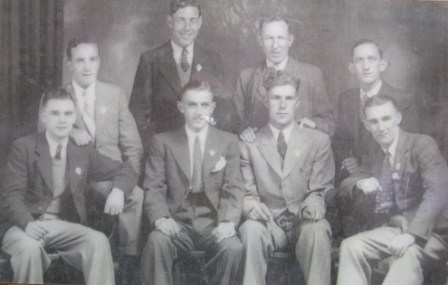 Men members of Engedi  Chapel.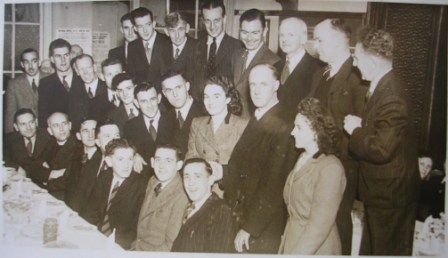 Some of the Engedi Members.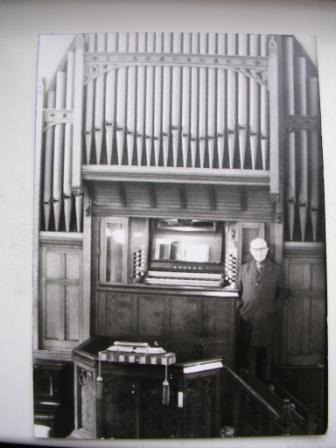 Teddy Jones at side of organ Engedi Chapel Highstreet Brymbo.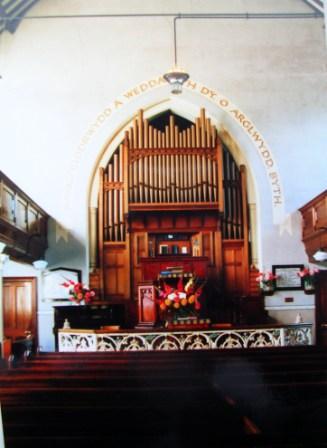 Inside Engedi Chapel Brymbo 1960s.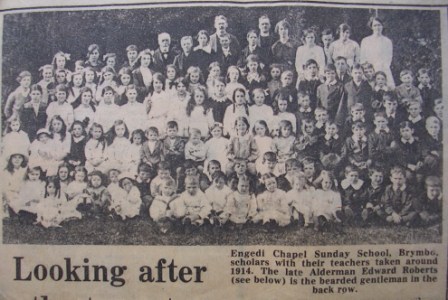 2005 Picures by Frankie Owens

2005 Picures by Frankie Owens

2005 Picures by Frankie Owens

2005 Picures by Frankie Owens

2005 Picures by Frankie Owens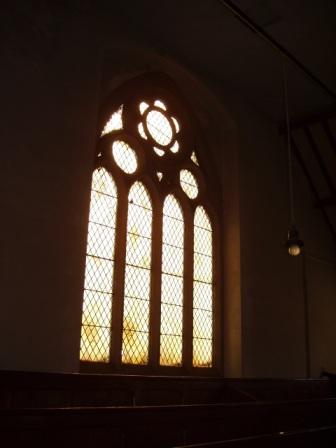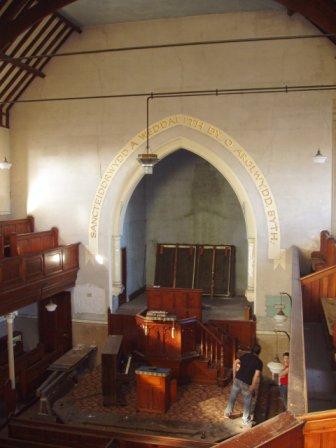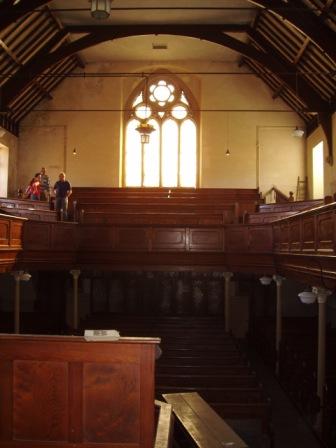 In April 2007, the auctioneers Seth Hughes had an open viewing of Engedi Chapel.

Thanks to Susan B, here are 3 pictures of the inside of the church as it is today after closing.